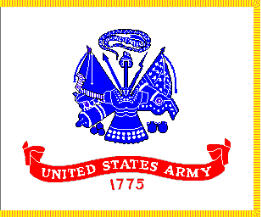 Robert served as a - Pfc - Grade E3 - Army - Drafted Selective Service

He was 24 years old at the time of his death

Bob was born on July 3, 1945 in Newark, N.J.

His tour of duty began in Vietnam on June 3, 1969

Bob served with A Company, 2nd Platoon, 1st Battalion, 5th Cavalry,

1st Air Cavalry Division

Bob died on July 17, 1969 in Binh Duong Province, South Vietnam

His death was a result of Hostile small arms fire inflicted while walking point for his platoon. Bob was knocked down by a B-40 rocket and then hit with AK-47 automatic weapons fire. Larry McVay, Bill Brown, John McMillian, Lt. Malcom, and Larry Fields were with him when he died.

[As recalled by Larry "Shorty" McVay]

Bob's religion was Protestant. He was single, not married

Bob is interred in the Frankford Plains Cemetry, Newton, N.J.

Bob was a 1964 graduate of Phillipsburg High School

Bob's name is listed on Panel 20W --- Line 9

of the Vietnam War Memorial in Washington D.C.

"Rest In Peace Bob You Are Missed By All Who Knew You"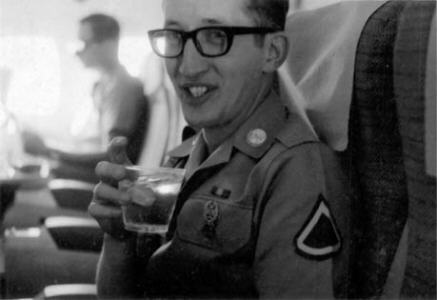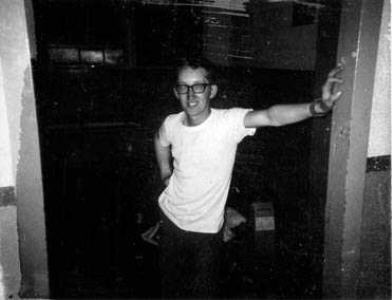 Bob on his way to Vietnam in 1969. At the time, Vietnam was the only war ever known, where you were sent into battle on a commercial air line. One day you were in the States and the next day you were being dropped off in a rice patty, from a helicopter, with someone shooting at you.

Bob at Fort Dix in 1969 Bob was a platoon Guide durning training at Fort Dix.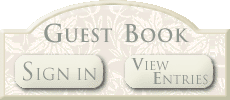 Please sign this book to leave a personal remembrance for this Hero.

If you have photos of this Hero and want to contribute them, please contact the Webmaster.


We have tried to present the most accurate of information. If you find discrepancies or dead links, please contact the Webmaster.


1st Battalion 5th Cavalry 1st Air Cavalry Divison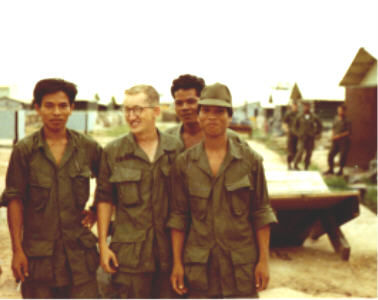 Bob 1969. Bob with Montagnard troops at his base camp at Phouc Vinh


Robert Franklin Bacon was a college graduate that went on to teach school. He became an art teacher fulfilling his life long thurst for creativeness. The draft notice came shortly thereafter putting a hold on his desire. Even though Bob was a college graduate, the Army drafted him in to the Infantry as a Private. Bob, being the guy he was, never complained and went on to do the job asked of him. Bob's actions in Combat earned him the following awards:

2-Bronze Star Medals ( With Oak Leaf Cluster ) for meritorious service against hostile forces, With "V" clasp for exceptional Valor / Heroism.

Purple Heart for wounds received in action

Combat Air Medal For heroic actions or meritorious service while participating in aerial flight.

National Defense Service Medal

Vietnam Service Medal

Vietnam Campaign Ribbon

Good Conduct Medal

The Republic of Vietnam, Military Merit Medal

The Republic of Vietnam, Gallantry Cross with Palm

The Combat Infantryman Badge

"Click on logo to view that Unit's Website"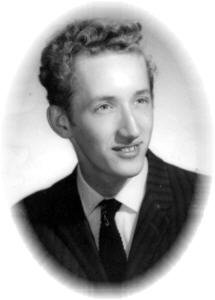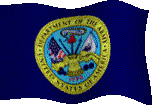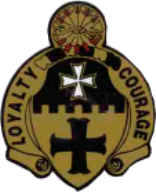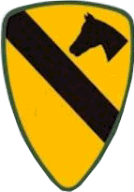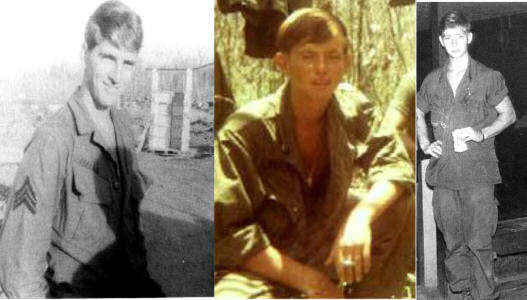 Sgt. Larry Field,  Sgt. Larry 'Shorty' McVay, and John McMillian were with Robert when he was killed.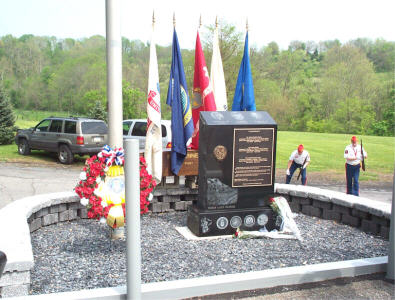 On May 10, 2003 the friends and classmates of  Robert Bacon erected a Memorial for him and  two other  Heroes,  Arthur Rowe, and Albert Shiller,  all causalities of the Vietnam War, that were residents of  Pohatcong Township,  Warren County, N.J.