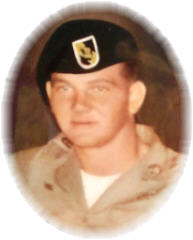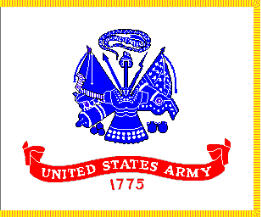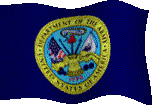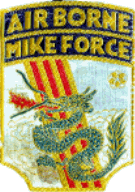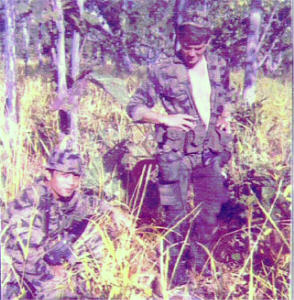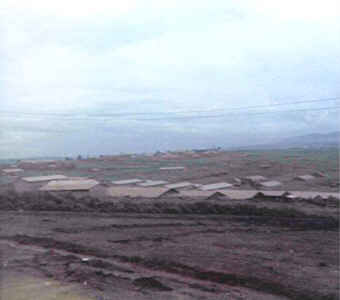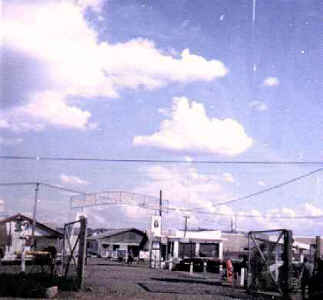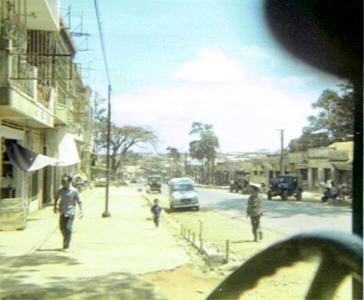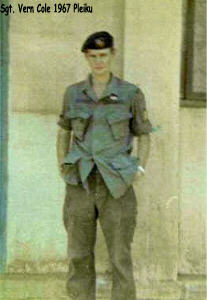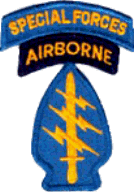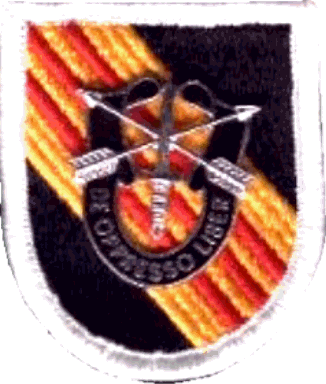 II Corp Mike Force

Special Forces

Vietnam

Clifford served as - Spec 4 - E4 - Army - Regular Enlisted Service

He was 20 years old at the time of his death.

Clifford was born Oct. 24, 1947 in Scranton, Pa.

His family at this time was living in Hop Bottom, Pa.

His tour began in Vietnam on July 28, 1967.

Clifford served with the  Company B, Mike Force, 5th Special Forces Group.

Clifford was killed just before noon on the morning of January 30, 1968 in the City of Pleiku.  It was the start to the "Tet Offenses" of 1968 by the Viet Cong.  The VC had gone into the City of Pleiku around midnight. They  were shooting rockets into the nearby American Airbase.  They were also randomly killing civilians and public officials. Clifford's  Company was sent into the City to stop them.  His Company was ambushed near the hospital and Cilfford was killed instantly. Clifford's Company Commander,

This was as remembered by Sgt. Vernon Cole.

Clifford's death was a resullt of enemy small arms fire. His body was recovered. Serving with Clifford at the time of his death were

Lt. Chester A. Husband and Sfc. Atlas A. Lovell.

Clifford is interred in the Hackettstown Cemetery, Hackettstown, N.J. not far from fellow Vietnam War Hero, Julius Zaporozec.
Clifford's religion was Roman Catholic. He was not married.

Clifford's name is listed on Panel 35E --- Line 73

of the Vietnam War Memorial in Washington, D.C.

"Rest In Peace Clifford You Are Missed By All Who Knew You"


Clifford Jones Jr. served with the Army's Elite Special Forces

Counter - Insergent Unit. He served his Country and Flag with Honor and Valor in combat. Clifford's Hometown Community would later remember their Hero Son when they Dedicated the section of, N.J State Route #46, that passes in front of the school that Clifford attended in Independence Township, "
Sp4 Clifford Jones Jr. Memorial Highway.
" His actions and service to his Flag and Country earned him the following awards:
Silver Star Medal (3rd highest award that can be awarded to a soldier) for Gallantry in action.

Bronze Star Medal with V device for meritorious service against hostile forces

Purple Heart for wounds received in combat

National Defense Service Medal

Vietnam Service Medal

Vietnam Campaign Ribbon

Good Conduct Medal

The Republic of Vietnam, Military Merit Medal

The Republic of Vietnam, Gallantry Cross with Palm

Combat Infantrymen Badge

Parachutist Badge


Clifford Jones, seen here on the right with a Montegnard Soldier in the area of Pleiku, 1967.

The Montegnard were fierce and loyal soldiers who fought side by side with their American counterparts. The shame would latter be that they would be abanded by the United States when the United States withdrew from South East Asia.

Mike Force, II Corp Base Camp at Pleiku, Clifford's Camp

Sgt. Vernon Cole 1967, Clifford Jones's friend and fellow soldier.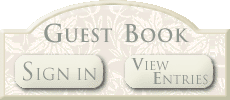 Please sign this guest book to leave a personal remembrance for this Hero.

If you have any information or photos of this Hero and want to contribute them to his Memorial site, please contact the Webmaster.



We have tried to present the most accurate of information. If you find discrepancies or dead links, please contact the Webmaster.

"Click on the logo to view that units web site"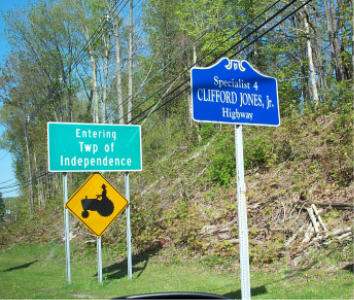 Spc. 4 Clifford Jones Jr. Memorial Highway, Rt. #46 in Independence Twp.

New Jersey.

"Click the photo to enlarge"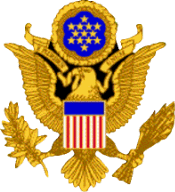 Spc.4 Clifford Jones Jr.'s Award Of The Silver Star (Posthumously) Reads:

For gallantry in action while engaged in military operations involving conflict with an armed hostile

force in the Republic of Vietnam: Specialist Four Jones distinguished himself by exceptionally valorous actions on 30 January 1968 while serving as Special Forces advisor to a Vietnamese reconnaissance company on a search and clear operation in the city of Pleiku. During the early morning hours, the city was attacked in several different areas by fanatical Viet Cong and North Vietnamese Army units intent on destroying vital installations and facilities. Specialist Jones maneuvered his troops to a school building complex held by a firmly entrenched insurgent force. A fierce firefight erupted, and his company launched a two-pronged attack on the enemy positions. Specialist Jones led his platoon to the left flank to divert the vicious hostile fire from another maneuvering platoon. The diversion was short- lived, and the enemy suddenly shifted his relentless fire on the sister element and pinned it down. Specialist Jones rallied his platoon for an assault to relieve his beleaguered comrades, but the attack lost its initial momentum in the face of the withering enemy barrage. Yelling words of encouragement, he charged forward in a courageous personal assault on the insurgents. His fearless determination inspired his troops to follow him and the coordinated attack drew enemy fire and enabled the trapped unit to reach safety. He was mortally wounded while unhesitantly placing the welfare of his fellow soldiers above his own. Specialist Jones' gallantry in action, at the cost of his life, was in keeping with the highest traditions of the military service and reflects great credit upon himself, his unit and the United States Army. And lastly, parts of a letter sent to Cliff's family after his death: Your son's exemplary performance of duty on 30 January 1968, was typical of his past service. On this date he was serving as part of a reaction force with a mission of reinforcing friendly units engaged with the enemy in the city of Pleiku, Republic of Vietnam. Authority, by the direction of The President of The United States, under the provisions of the Act of Congress, approved July 9, 1918.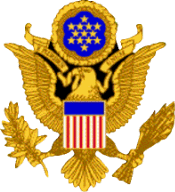 Spc.4 Clifford Jones Jr.'s Award Of The Bronze Star  Reads:

For Heroism in connection with ground operations against a hostile force

in the Republic of Vietnam: Specialist Jones distinguished himself by valorus actions on 15 January 1968 while serving as communications operator and platoon leader for the 24th Mobile Strike Force Company on a search and destroy mission in hostile territory. Specialist Jones's platoon was deployed in an ambush position approximately 500 meters from the rest of the company in a thickly vegetated dense bamboo grove. At approximately 1900 hours as daylight was fading, a North Vietnamese unit approached the platoon's position and one of the CIDG troops opened fire prematurely resulting in a heavy fire fight. Specialist Jones, realizing that he could not inflict damage to the enemy from his secure position led his troops into another position in an attempt to cut off the enemy unit. In order to get indigenous troops to leave the security of their foxholes, he exposed himself to enemy fire and through his exposure of himself to enemy fire, succeeded in moving his troops to a better position. As a result of his actions, three enemy bodies were found along with weapons, equipment and several fresh blood trails. Specialist Jones's disregard for his personal safety and exposure of himself to a heavy volume of hostile fire enabled him to inflict maximum casualties on the enemy. His bravery and devotion to duty were in keeping with the highest traditions of military service and reflects great credit upon himself, his unit and the United States Army. Authority,

by the President of the United States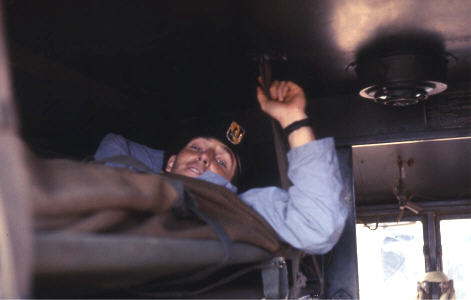 Picture is Capt Larry Dring leaving the Field Hospital at Pleiku by G.I. ambulance after  the fight that Cliff was killed in, for a flight to a hospial in Japan. Capt Dring's unit of Montagnard Mike Forces, of which Cliff was part of,  was put into action on the west edge of Pleiku City. They put a stop to the enemies' advance. Capt Dring was wounded in the femoral artery of his leg. He was bleeding profusely and was aided by nurses of the Mennonite Clinic that his unit had just protected. One of the nurses was Becky Gould and she would later become
Capt Dring's wife. 

Military nurses at the Pleiku field hodspital tried to disarm Larry. He wore his green beret

and clung to his pistol. He was quite a story teller and hero to the draftees in the ward. Because he had heard that the enemy had attacked the Cam Ran Bay hospital and killed the wounded he swore that the VC would not kill him un-armed and in bell therefore he kept his loaded 45 in bed and warned the nurses to leave it alone which thy did. Larry had an extended stay at Pleiku for fear that the C-124 ("Old Shaky") would open the stitches in his artery.

  "A special thanks to Charlie Long SF Retired for this photo and remembrance of Capt. Larry Dring "

"Click on the photo to learn more about  Capt. Larry Dring"