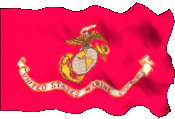 Francis Matthew Finnerty Jr.

United States Marines Corps

1st Battalion 5th Marines

Francis served as - Pfc - E3 - Marine Corps - Enlisted Service

He was 19 years old at the time of his death.

Francis was born Nov. 30, 1948 in Bronx, N.Y.

His tour of duty began in Vietnam January 13, 1968

Francis served with Delta Co., 1st Battalion, 5th Marines. Francis was transfered on May 10, 1968 to (2-1-3) of the 2nd CAG, III MAF. under the command of Capt. Patrick Mitchell.

(The 2nd CAG ...stood for 2nd Combined Action Group.....these were small Marine Corps units set up with PF (Vietnamese Popular Forces) that operated against the VC...the Marines were usually assigned from Marine Corps Company's in the beginning...later they underwent special training..some went to Vietnamese Language school....these Marines lived with the Vietnamese in their villages usually running patrols and small combat operations with them....They served under the command of.....

III MAF..... This was, The Third Marine Amphibious Force, the Senior Command of all Marines in Vietnam.)

Francis died on Nov. 17, 1968 in Quang Nam Province, in the small Hamlet  of Tui Laon, outside of Da Nang, Republic of South Vietnam. He died at approx. 7:30 AM of a gun shot wound to his chest while he was in a defensive position.

His body was recovered.

Last Rights were given by Lt. Jim M. Wright, (CHC) U.S.N.

Francis Matthew Finnerty Jr. is interred in the

Long Island National Cemetary, P section, plot 359, Pine Lawn, New York.

Francis's religion was Roman Catholic. He was not married.

Francis attended St. Phillip and St. James Roman Catholic School and

graduated from St. Nicholas of Tolentine Boys High School in 1966.

Francis's name is listed on Panel 39W --- Line 79

of the Vietnam War Memorial in Washington, D.C.

"Rest In Peace Francis You Are Missed By All Who Knew You"

Francis M. Finnerty Jr. served his Country and Flag with Honor and Valor. His service to his beloved Marine Corps, His aggressiveness, and His devotion to duty, was in the highest traditions of the Corps and  his Country. His service to his Country earned him the following awards:

Purple Heart with 2 stars for wounds received in combat on 3 separate occations.

Combat Action Ribbon

National Defense Service Medal

Vietnamese Service Medal with star

Vietnamese Campaign Ribbon

The Republic of Vietnam, Military Merit Medal

The Republic of Vietnam, Gallantry Cross with Palm

Good Conduct Medal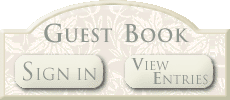 Please sign this Guestbook to leave a personal remembrance for this Hero.

If you have any photos or information of this Hero and want to contribute them to this Memorial Site please contact the Webmaster.



We have tried to present the most accurate of information. If you find discrepancies or dead links, please contact the Webmaster.

"Click on the logo to view that Unit's web site"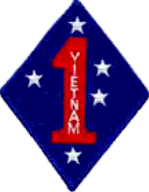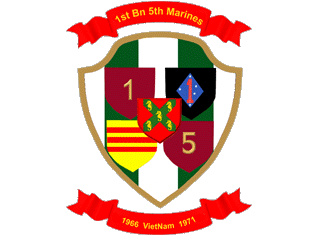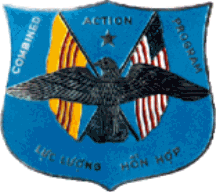 Combined Action Program

(2-1-3) of the2nd Combined Action Group

3rd Marine Amphibious Force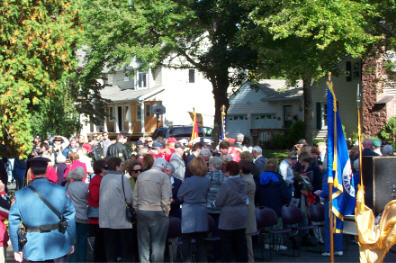 On October 20, 2002 the Township of Washington, Bergen County, New Jersey renamed a street in honor of their Favorite Son and past resident,

PFC Francis M. Finnerty, USMC, "Finnerty Place."

Francis, at the time of his death, was the 117th Bergen County soldier to perish in the Vietnam War and the only one from Washington Township, Bergen County, New Jersey.

The event was hosted by The Veterans of Foreign Wars Post #6192

"Please Click on the above photo to view more photos of the event"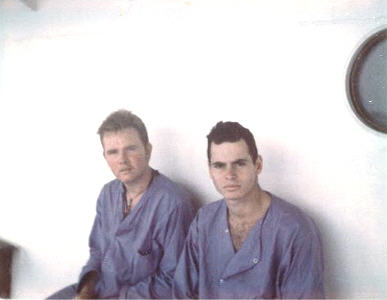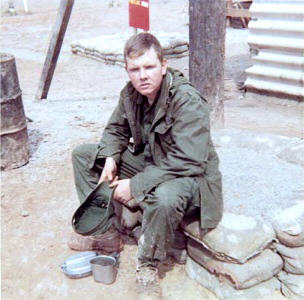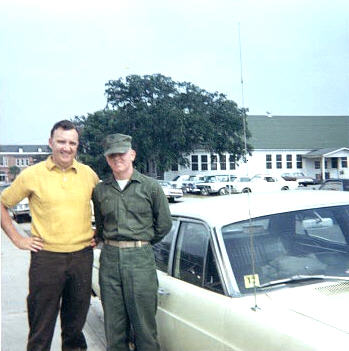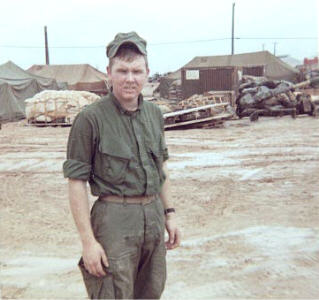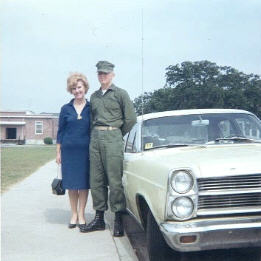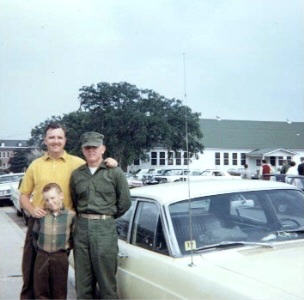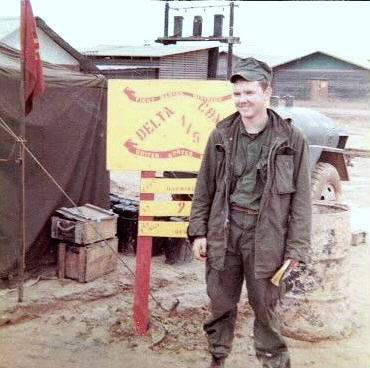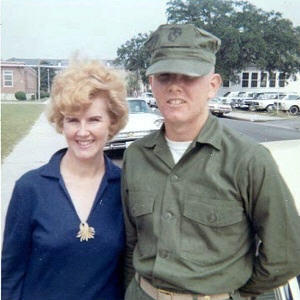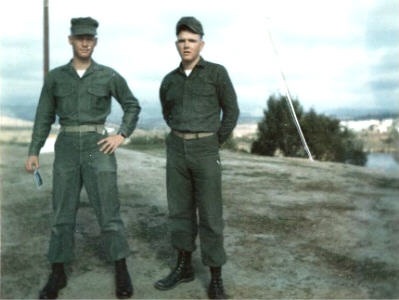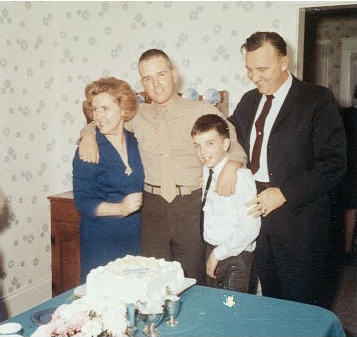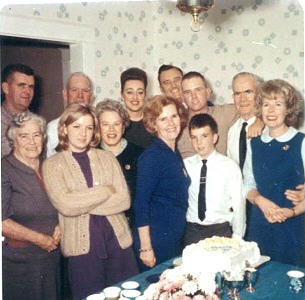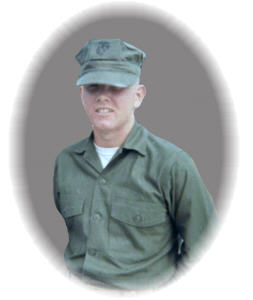 Francis at basecamp when he was with Delta 1/5 before he transferred to the 2nd CAG Group

Francis in front of Delta 1/5 Command Post (CP) in 1968

Francis at  basecamp 1968

Pfc. James Dandy and Francis during training. Location unknown.

Francis on the left, location unknown.

Francis durning training. Seen here with his mother, Marion, father, Francis Sr. and brother, Timothy. Francis also had two sisters, Maureen and Kathleen and another brother, Daniel.

Francis and his mother Marion in 1967

Francis and his Family in 1967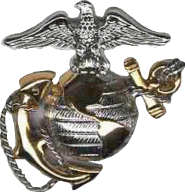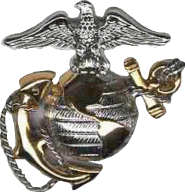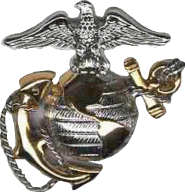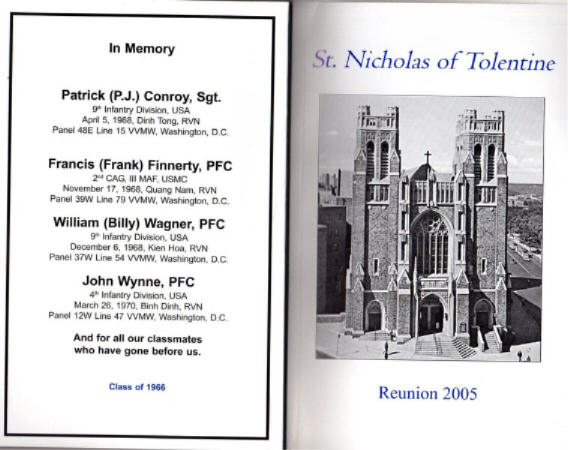 In October 2005,  at a a parish-wide reunion, St. Nicholas of Tolentine honored those who had died in the Vietnam War. Above is the front (on the right) and back pages of the booklet given out at the event.

There were 68 graduates in the  St. Nicholas of Tolentine Boys class of 1966.  4 died in Viet Nam. The above information was given by John Coleman