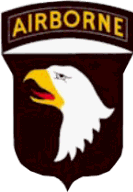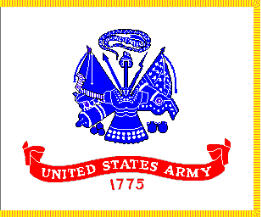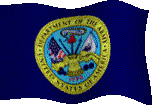 101st Airborne Division

(Airmobile)

Robert served as - Msgt. - E8 - Army - Regular Enlisted Service

He was 37 years old at the time of his death.

Robert was born Oct. 25, 1931 in Belvidere, N.J.

His tour of duty began in Vietnam on Oct. 17, 1968.

Robert served as an Infantry Operations And Intelligence Specialist  with the HHC, 2nd Battalion, 506th Infantry, 101st Airborne Division, as remembered by his Battalion Adjutant, Ronnie Rondem.

Robert died on July 3, 1969 in the Ashau Valley near Camp Evans, in Thua Thien Province, Republic of South Vietnam. Serving with him at the time of his death was Willie Joe Ramey, and Ezra E. Kennedy.

His death was a result of a Helicopter crash. He was aboard on a military mission.  His body was recovered.

"See incident report below"

Robert is interred in the Belvidere, N.J. Cemetery

Robert's religion was Protestant. He was married

Robert's name is listed on Panel 21W --- Line 12

of the Vietnam War Memorial in Washington, D.C.

" Rest In Peace Robert You Are Missed By All Who Knew You "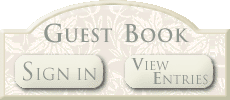 We have tried to present the most accurate of information. If you find discrepancies or dead links, please contact the Webmaster.

Please sign this book to leave a personal remembrance for this Hero.

If you have any photos of this Hero and want to contribute them, please contact the Webmaster.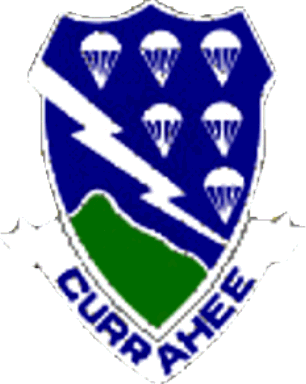 Honors

Robert Albanese was a career soldier who had ten years in the Army when he was killed. Robert served his Country and Flag with Honor and Valor. His service to his beloved Army earned him the following awards.

Bronze Star Medal for meritorious service against hostile forces.

Purple Heart for wounds received in an armed conflict.

Air Medal for heroic actions or meritorious service while participating in aerial flight.

Army Commondation Medal with oak leaf cluster

National Defense Service Medal with oak leaf cluster

Vietnam Service Medal with bronze star

Vietnam Campaign Ribbon

The Republic of Vietnam, Military Merit Medal

The Republic of Vietnam, Gallantry Cross with Palm

Good Conduct Medal with 5 bronze loops

"Click on the logo to view that unit's web site"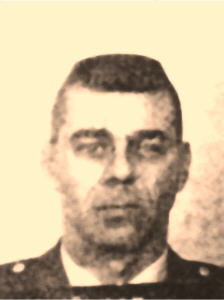 Helicopter  incident Tail number  67-17855

Information on U.S. Army helicopter UH-1H tail number 67-17855

The Army purchased this helicopter 10/68

Total flight hours at this point: 00000563

Date: 07/03/1969

Incident number: 690703251ACD

Accident case number: 690703251 Total loss or fatality Accident

Unit: 3 Brigrade, 101st  Airborne

The station for this helicopter was Camp Evans in South Vietnam

Number killed in accident = 1 . . Injured = 4 . . Passengers = 1

Original source(s) and document(s) from which the incident was created or updated: Defense Intelligence Agency Helicopter Loss database. Army Aviation Safety Center database. Also: OPERA (Operations Report. )

Loss to Inventory

Crew Members:

Aircraft Commander, W1, E. NAVARRETTE

Pilot,  W1,  E.  BERNER

Crew Chief, E4, O.R. CARLO

Gunner, E3, D.G. OSTERMILLER

Passengers and/or other participants:

Msgt.  Robert Albanese, AR, PX, Killed in Action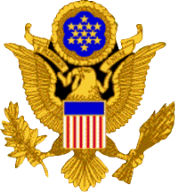 Accident Summary:


THE CREW HAD BEEN INVOLVED IN COMMAND AND CONTROL MISSIONS MOST OF THE DAY.  THEY HAD EXCHANGED AIRCRAFT WITH ANOTHER CREW ABOUT ONE HOUR BEFORE THE ACCIDENT BECAUSE OF RADIO DIFFICULTIES.  AFTER A DROP OFF AT AIRBORNE, THE AIRCRAFT COMMANDER WAS REQUESTED TO MAKE A PICKUP OF ONE PASSENGER FROM FIRE BASE BERCHTESGADEN 9000 METERS AWAY.  AIRCRAFT 6717855 LANDED AT BERCHTES GADEN AND PICKED UP ONE PASSENGER, MSG ROBERT ALBANESE, WHO GOT IN THE AIRCRAFT AND SAT IN THE SECOND SEAT FROM THE RIGHT.  HE WAS OBSERVED FUMBLING WITH THE SEAT BELT AS THOUGH FASTENING IT. NO CHECK WAS SPECIFICALLY MADE TO INSURE THAT ALL PERSONNEL HAD ON SAFETY BELTS.

THE AIRCRAFT TOOK OFF AND BEGAN TO CLIMB OUT AT 80 KNOTS AND APPROXIMATELY 800 FEET PER MINUTE RATE OF CLIMB.  AT A POINT 2000 METERS SOUTHWEST OF FB AIRBORNE, AND 500 FEET ABOVE THE TERRAIN, A LOUD NOISE WAS HEARD AND THE AIRCRAFT YAWED TO THE LEFT.  THE AIRCRAFT HAD BEEN IN FLIGHT FROM BERCHTES GADEN ABOUT TEN MINUTES.  THE YAW WAS CORRECTED AND AN AUTOROTATION INITIATED.  THE PILOT STATED HE HAD BEEN MONITORING THE INSTRUMENTS UP TO THE POINT OF THE LOUD BANG AND HAD OBSERVED NOTHING UNUSUAL.  AFTER THE LOUD BANG, THE AIRCRAFT COMMANDER REPORTED NO ABNORMAL READINGS ON THE INSTRUMENTS;  EXCEPT FOR A HIGH RPM READING DURING THE ACTUAL AUTOROTATION.  THE CREW CHIEF AND GUNNER BOTH REPORT SEEING SPARKS AND FLAMES COMING FROM THE EXHAUST.  THE CREW CHIEF OBSERVED THE PASSENGER TO STAND UP AND LOOK AROUND RIGHT AFTER THE EXPLOSION.  THE CONTROLS WERE FREE AND THE AIRFRAME INTACT.  THE PILOT ISSUED A MAYDAY ON UHF.  THERE WAS NO SUITABLE PLACE TO ATTEMPT TO LAND SO THE AIRCRAFT COMMANDER SHOT AN AUTOROTATIVE APPROACH TO ZERO AIRSPEED JUST ABOVE THE TREE TOPS.  AS THE AIRCRAFT ENTERED THE TREES HE PULLED PITCH TO CUSHION AND ROLLED THE AIRCRAFT TO THE RIGHT.  THE AIRCRAFT ESSENTIALLY WENT STRAIGHT DOWN AND ROLLED RIGHT. THE PASSENGER PRESUMABLY FELL OUT AND HE WAS CRUSHED BETWEEN THE AIRCRAFT AND A TREE OF 12" DIAMETER.  HE WAS KILLED INSTANTLY. THE CREW AFFECTED EGRESS AND WERE RESCUED SOME 15 TO 30 MINUTES LATER WITH A JUNGLE PENETRATOR RIG.
This record was last updated on 09/20/98

The following is crew member information for this incident:

Name: MSG Robert Albanese

Status: Killed In Action from an incident on 07/03/69 while performing the duty of Passenger.

Age at death: 37.7

Date of Birth: 10/25/31

Home City: Belvidere, NJ

Service: regular component of the U.S. Army.

Unit: 3 BDE 101 ABN

Major organization: 101st Airborne Division

Service: U.S. Army.

The Wall location: 21W-050

Aircraft: UH-1H tail number 67-17855

SSN: 157226225

Country: South Vietnam

MOS: 11F50 = Infantry Operations And Intelligence Specialist

Major attributing cause: aircraft connected not at sea

Compliment cause: weapons

Vehicle involved: helicopter

Position in vehicle: passenger

Started Tour: 10/17/68

"Official" listing: ground casualty

Length of service: 10

Location: Thua Thien Province I Corps.

Reason: vehicle lost or crashed

Casualty type: Non-hostile - died of other causes

married male U.S. citizen

Race: Caucasian

Relgion: Protestant - no denominational preference

The following information is secondary, but may help in explaining this incident.

Category of casualty as defined by the Army: non-battle dead Category of personnel: active duty Army Military class: enlisted personnel

This record was last updated on 07/29/95