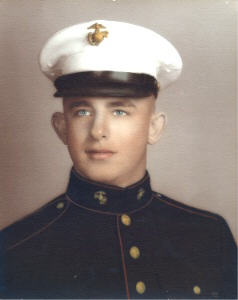 Albert served as a - Sergeant - Grade E5 - Marine Corps - Regular Enlisted Service.

He was 21 years old at the time of his death

Al was born on March 25, 1946 in Phillipsburg NJ.

His tour of duty began in Vietnam on July 17,1967.

Al served with 3rd Platoon, Mike (M) Company, 3rd Battalion, 3rd Marines

as a Platoon Guide.

Al died on July 21, 1967 in Quang Tri Province, Hill 881, South Vietnam. His platoon was on a search and destroy mission during Operation Kingfisher in the area of the Ga Iu Outpost. Al's platoon was engaged by a hostile enemy force of unknown size. Al was struck by gun fire  at approximately 3:00 PM. Al died of those wounds at approximately 7:00 PM. as reported by Capt.W.R. Griggs, his commanding officer. Lt Bobby Myatt, US Navy Chaplain conducted Memorial services, Vietnam.

His body was recovered

Al is interred in Fairmont Cemetary Phillipsburg, NJ. not far from his cousin,

James Robert Morris, A Marine Killed in Vietnam 1/31/68.

Al was married

Al was a 1964 graduate of Phillipsburg High School

Al's name is listed on Panel 23E --- Line 102

of the Vietnam War Memoral in Washington D.C.

"Rest In Peace Al You Are Missed By All Who Knew You"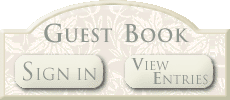 Please sign this book to leave a personal remembrance for this Hero.

If you have photos or information of this Hero and want to contribute them, please contact the webmaster


We have tried to present the most accurate information. If you fnd discrepancies or dead links, please contact the webmaster


"Click on logo to view that Unit's website"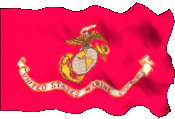 Albert Aleya Outwater enlisted right after he graduated from high school. Al was a farm boy who enlisted to serve his Flag and Country. Albert's ambition was to become a New Jersey State Policeman after his enlistment was finished. Albert rose with honors through the ranks of the United States Marine Corps serving with Co H, 2nd Battalion, 6th Marines, 2nd Marine Division;  H & S Company, Washington, D.C.;  Company M, 3rd Battalion, 3rd Marines, 3rd Marine Divison. For his service to the Corps and Country, Albert Aleya Outwater received the following awards:

Purple Heart for wounds received in an armed conflict

National Defense Service Medal

Vietnam Service Medal

Vietnam Campaign Ribbon

The Republic of Vietnam, Military Merit Medal

The Republic of Vietnam, Gallantry Cross with Palm

Good Conduct Medal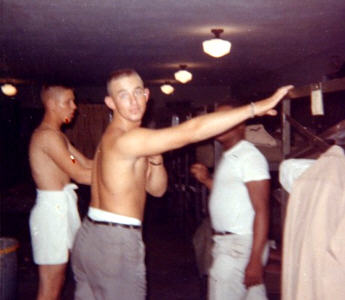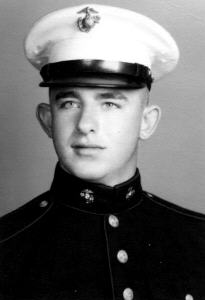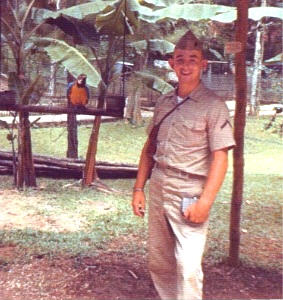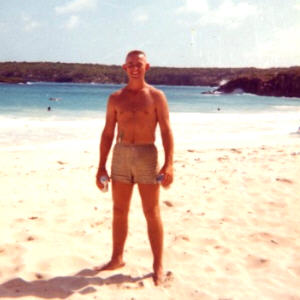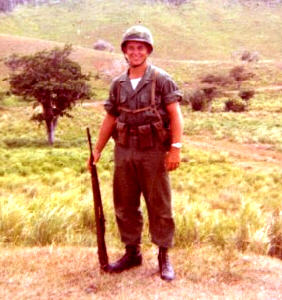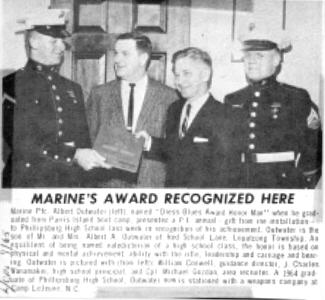 Albert after basic training

Albert Outwater's top Marine Award presentation to his High School

"Click Photo to Enlarge"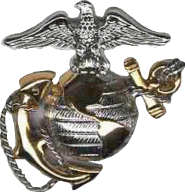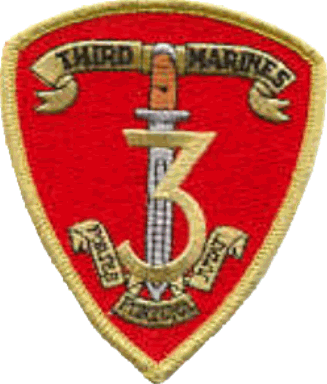 A Remembrance of the battle that took Albert's life

As Remembered by Joe Cialone

Mike 3/3 XO

July 21 is an important date for me because of the fight we (Mike 3/3) found ourselves in that day. It was a terrible ambush intended for an extraordinarily large convoy that appeared at our outpost which set astride Highway 9 (just a one-lane asphalt/gravel road) at Ca Lu, an old French fortified position. You can find it generally on a map--Ca Lu was located at the point where Highway 9 turns west toward Khe Sanh and Laos along the Ba Long River. We didn't know the convoy was coming but the NVA did, and they had set up an elaborate ambush for the convoy about 3-4 miles west of Ca Lu.

The NVA had planned it perfectly to catch the mile-long convoy between the river and the adjacent bluffs that rose up from the road. The NVA would have wiped out the convoy (the convoy was taking 175 mm long-range guns to Khe Sanh that could bombard the Ho Chi Minh Trail in Laos from Khe Sanh) if they had executed it properly.

But they screwed up--an NVA soldier had an accidental discharge of his weapon, blowing their cover, the convoy backed up, and Mike Company (Capt Griggs) was ordered to send out a platoon to see what was going on. Second platoon went out, and sure enough they came upon the ambush, and Capt Griggs and I (the Executive Officer, XO, then) took another platoon out to rescue second platoon, and things escalated from that point on.

Before the day was over, we had help from a relief party from Battalion HQ at the Rockpile (3/3) led by then Major Mike Harrington (he was the Bn Ops Officer--he lives here in Houston and we get together every July 21), air support from Marine A-4s that took out the mortars that were pounding us along the road, an Army twin 40 (a tracked vehicle something like a tank but which mounted a tub of two 40 millimeter automatic cannons that were used in WW II as antiaircraft weapons--you've seen them on ships in WW II movies), and a quad-50, which was a flat bed truck with an open turret with four .50 caliber machine guns. Between the bombs and napalm, and the Army vehicles chewing up the hills along the road, Mike Company and the 3/3 relief forces were able to rout the NVA ambushers and get back to Ca Lu, but it took hours.

We lost 10 fine Marines that day, and I believe one soldier was killed, and we had lots of wounded.

I can't remember what platoon Al was in, but it was a desperate battle and he could not have avoided being right in the middle of it. I do not remember the exact circumstances of his death, he must have been a hero. It was that kind of fight.

There were plenty of heroes that day, and Al was one of them, but one man stood out--Staff Sergeant Terry Meier, the platoon sergeant for second platoon. I recommended him for the Medal of Honor; he was awarded the Navy Cross, the second highest award for valor. I'm attaching my recommendation, which may give you a sense of the day we had, and here's a link to his actual citation.
"Click on logo for statement"